Welcome to San Diego
Advice is a click away
What Would You Like To Know?
San Diego
Search San Diego Real Estate Listings
---
For West Coast Living, Consider San Diego as Your Next Home
There are a number of things people look for when deciding where to move, from weather to lifestyle to availability of activities. Many have found the pinnacle of these criteria and more when searching San Diego real estate listings.
San Diego has an average temperature always around 70 degrees, the weather is perfect for days on the beach.
With the array of things to do in and around San Diego, there's something for everyone. For nature lovers, Torrey Pines State Natural Reserve offers a hike with a great view of the ocean at the end, and those who want a little closer look at the water can book whale watching cruises.
For health enthusiasts, not only are there the requisite water sports such as surfing and kayaking, San Diego has offerings that include rock walls, yoga, and boxing, just for starters.
Foodies will be delighted by the incredible fish tacos and Mexican inspired cuisine, not to mention the farmers markets and food trucks that are never too far from where you are. For families raising children, the San Diego Zoo is an obvious attraction, but there are many other museums, parks, beaches, and of course SeaWorld, which can keep families of all ages entertained.
The one thing that could intimidate some prospective residents is the San Diego real estate market.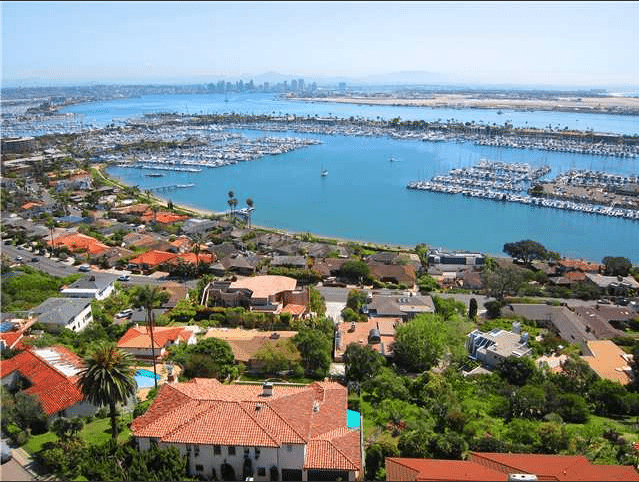 Although in the mid-2000's prices did rise, since the peak in 2005, home prices have declined by 36 percent.
This makes now an opportune time to buy San Diego homes. When compared with other nearby areas, such as Los Angeles and the Bay Area, rent and mortgages in San Diego are very reasonable.
San Diego county real estate offers many places to live, from "the jewel" of the city in La Jolla, to the dynamic downtown San Diego, to communities around the city including Bonita and Clairemont.
Real estate listings offer homes at every price point and include apartments and larger homes alike.
Whether you're a student looking for housing or a family trying to be close to the beach, there are plenty of options. One would only need to search San Diego homes for sale to find the right opportunity.
---
Property Listings
Property listings for San Diego, California.
Market Analysis
Market analysis data for San Diego, California.
Real Estate Market
Connector.

Median sale price last 12 mo.

Connector.

Avg. property tax

Connector.

Sale price lowest 12 mo.

Connector.

Sale price highest 12 mo.
Photo Gallery
View our gallery below for San Diego, California.
Area and Demographic Statistics
This part graphically explains area and demographics stats for San Diego, California.
Number of households
489,828
Household Avg. Income
89,643
Avg. year dwelling build
1973
| | |
| --- | --- |
| Population | 1,361,419 |
| Population Density | 3,556 |
| Median Age | 35 |
| | |
| --- | --- |
| Average value of the dwelling in which household lives | $530,524 |
| Avg. years a household has lived in dwelling. | 16 years |
Show me the National Index Comparison
Schools
This part contains all educational institutions in San Diego, California.
The Best in
San Diego
Browse through the top rated businesses in the most popular categories San Diego, California has to offer.
Dine
Drink
Shop
Coffee
Workout
Groom
Pet Care