Coronado Real Estate
There's Something for Everyone in Coronado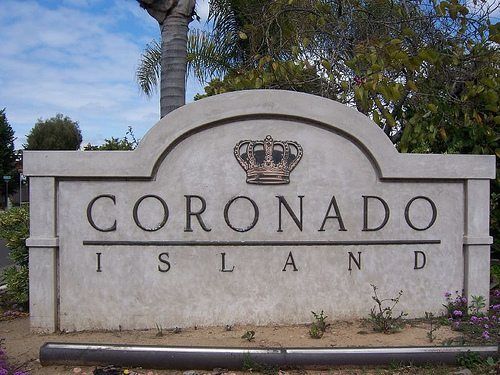 Coronado real estate
lays on an Island that is a lush and affluent San Diego Suburb. It boasts beautiful beaches, spectacular views, fine and casual dining, high rated schools, and an abundant variety of activities. Though truly a peninsula it has a definite island vibe, one that can be appreciated all year long.
Attractions
The Hotel Coronado is one of the most famous landmarks and an often visited attraction. Built in 1888 it has been used in movies and has been frequented by presidents, actors, athletes and musicians. It even has a resident ghost.
The stunning architecture and grounds are a must see even if you don't plan on staying the night. The Coronado Museum of History and Art shouldn't be missed. It offers free admission and showcases some of the rich history of the area.
Residential Life on The Island
Coronado has some of the best kept beaches in California. Wide sandy areas that allow gentle sloping into the water are perfect for families with small children, couples looking for a romantic walk, and those looking to catch some rays.
There are over 71 restaurants to choose from, ranging from casual dining to more formal, suit-and-tie required choices. There are plenty of cafes, coffee shops, and snack shops to satisfy your appetite, no matter your tastes.
Public elementary through high schools students attend schools in the Coronado school district. The one high school, middle school, and two elementary schools receive some of the highest rankings in the state. There are also several private and charter schools for those who prefer alternatives to public School.
Coronado Real Estate Market
Within the Coronado real estate market you can find some of the most beautiful and sought after homes in the area. Many offer easy beach access and expansive views.
You can find Coronado homes ranging from smaller studio's, to larger homes perfect for families, or those who want space to relax in.
Coronado has something to offer everyone. With lots of sunshine and moderate rain you can enjoy the outdoors all year long. Enjoy the feel of a small, close-knit, friendly community with the benefits of a larger town, with San Diego only minutes away.

---
Latest Coronado Real Estate For Sale
Coronado Highlights
A quick view of the most influential metrics in Coronado.
Let's Chat About Coronado
Properties in Coronado
View our selection of available properties in the Coronado area.
Inside Coronado
Check out the latest demographic information available for Coronado.
Overall Cost
VS National AVG
Housing Cost
VS National AVG
Entertainment Cost
VS National AVG
Utilities Cost
VS NAtional AVG
Crime Rate
VS National AVG
QUICK FACTS
---
Let's Chat About Coronado
Coronado Schools
Learn more about schools near Coronado complete with ratings and contact information.
The Best in Coronado
Browse through the top rated businesses in the most popular categories Coronado has to offer.
Dine
Drink
Shop
Perk
Sweat
Groom
Wag